Located in the heart of Patong Beach, Phuket, HERO FUEL was created to meet the needs of the world's fitness community. Whether you're a competitive athlete, extreme fighter, fitness junkie or a health-conscious individual – HERO FUEL is the perfect fuel.
HERO FUEL offers delicious, nutrient-dense meals and smoothies made fresh to cater to each Hero's specific needs.
Offering a menu designed with the professional athlete/ fitness lifestyle in mind and a "build your own" option, We only use the finest and most unique selection of ingredients, blended with an acute sense of preparation and presentation every time!
One of our most important goals is to be Phuket's mecca for healthy eating, healthy foods, and an all-around healthy lifestyle. It's a place with a quick-serve mentality which can be called fine healthy fast food.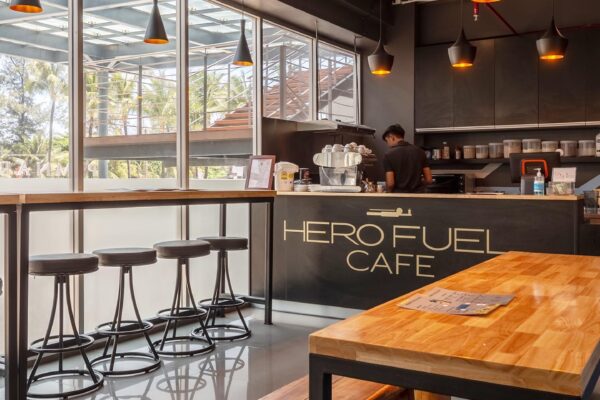 HERO FUEL is committed to making every aspect of your experience the best while providing an inviting, comfortable, modern atmosphere; superior, healthy food served and prepared by a friendly, courteous staff. With everything from Protein Shakes, Protein Bowls, Protein Pancakes, Oatmeal Bowls, Yogurt Bowls, Coffees, Wraps and Pressed Sandwiches HERO FUEL only makes the best creations.
HERO FUEL is located next to FITNESS HERO SPORTS CLUB inside Banana Walk Beachfront Mall overlooking beautiful Patong Beach.